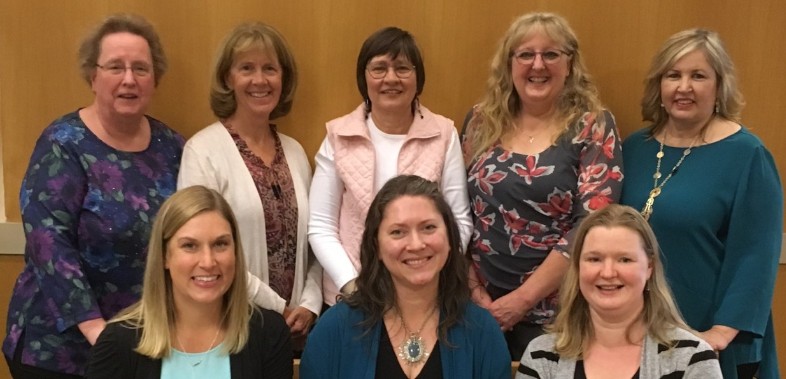 Nancy Stephens - Human Resource Manager
Nancy came to Nursingale with more than 10 years of experience in multifaceted HR programs, policies and operational development.  She is passionate about servicing with excellence, integrity and heart and thrives on working collaboratively with employees and administrative teams. She has earned a Bachelor's Degree in business.
Krissy Harry RN, BSN – Delegation Nurse
Krissy started doing home care nursing in 2003 and joined Nursingale in 2005 as a staff nurse. She was our nurse educator for three years (2011-2014) and then transitioned to the Clinical Coordinator role in 2014. In this role, she is responsible for educating staff and coordinating client care. Her love of teaching also extends outside of work where she was a professional ice skating instructor for nearly 20 years. She also worked for two years with the George Fox University BSN program as an adjunct clinical instructor for senior level students in the Public Health Course and entry level sophomore nursing students. 
Jan Knitz – Staffing Specialist
Jan has been with the agency since day one as our Staffing Specialist. She is responsible for client and nurse schedules and keeps track of all the medical records. She has worked in the Health Care industry as both a staffing specialist and Certified Nursing Assistant for three different agencies since 1976.
Patti Sadowski, RN, MSN, MBA - Executive Director 
Patti has spent her entire 40-plus year nursing career caring for families and children living with chronic illnesses. She received her Master's Degree from OHSU with a clinical specialization in pediatric chronic illness in 1981.  Since moving to Portland she has worked in education, hospital administration and non-profit development. As Executive Director she is devoted to providing the leadership, guidance and visioning needed to grow our agency into Portland's best provider of home care services to the medically fragile.
Sonya Scott, RN, BSN-Case Manager
Sonya worked as a staff nurse in the homes of three Nursingale clients for nearly three years before becoming one of our Clinical Coordinators. She began her nursing school experience at Clackamas Community College and completed her BSN degree at OHSU. She is totally dedicated to the wonderful clients, families and the other nurses that make up Nursingale's team.
Sharon Wullbrandt - Billing/Payroll Specialist
Sharon Wullbrandt was one of our cofounders. As the Operations Manager she oversees the payroll, negotiates contracts with insurance companies and bills the payer source for services provided by our nursing staff. She also coordinates employee benefits and keeps a close eye on the financial stability of the organization. She has worked with the medically fragile community since 1997 when she was hired to work with the Legacy Pediatric Shift Care Program. Previous to that, Sharon was a professional volunteer. 
Nichole Quam- RN, BSN, CCM - Case Manager
Nichole came to Nursingale with 15 years of nursing experience in Neonatal Intensive Care and Emergency nursing.  She recently completed her certification in Nurse Case Management which lead her to pursuing her current role as Clinical Coordinator at Nursingale. Her passion lies with serving the pediatric and young adult population and improving the lives of her patients by ensuring safe and well-coordinated care.   
Debbie Cohen RN, BSN, MSN-e - Nurse Manager
Debbie brings a great skill set to Nursingale.  Not only is she on the faculty at the Concordia University School of Nursing where she is the clinical placement coordinator, but she also worked at Shriners Hospital for Children for more than 20 years as a Nurse Educator in addition to functioning as a charge nurse in the inpatient unit.  Her experience will help us to continue offering the highest level of care to our clients.
Bonnie Gilchrist - Development Officer
Bonnie brings many years of marketing and fundraising experience to Nursingale.  She began her career with several leading Pacific Northwest advertising agencies, before staring her own successful company.  In 2001 she finally decided to sell it and devote the rest of her life to working with non-profits. Today she produces all of our events and works to form ongoing relationships with our donors.
Delaney Jackson, Administrative Coordinator
Delaney is the most recent addition to the administrative team and has been with Nursingale since December 2018. She is new to non-profit work and is responsible for employee onboarding, HR support, after hours calls, changes to staff and client schedules and fundraising.  She also works as a personal caregiver for a school-aged autistic boy.