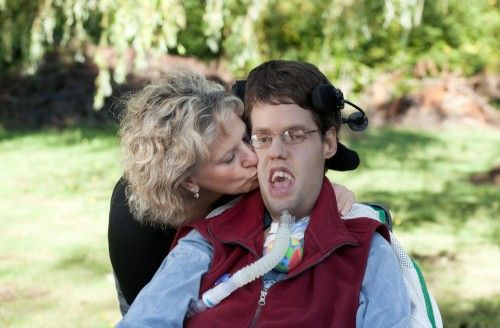 Chris Thomas' son Eric had been receiving nursing care at home for more than 20 years. During that time they had worked with many different home-nursing agencies, some of which had closed. In 2005, frustrated, because she wanted her son cared for not only the right way, but for the right reasons, she and her family decided to support the formation of the only non-profit organization in Oregon providing in-home nursing care to the medically fragile. Sadly, Chris passed away in 2017, but Nursingale continues to honor her memory by moving forward, guided by her spirit and love for each of our client families and the nurses that provide loving, family-centered care. 
As a major step in this direction, our board of directors has also established "The Chrissie Vial Thomas Respite Fund."  recognizing that parents of medically fragile children are often exhausted from the daily challenges and stress of keeping their child alive and infection free. This fund will help to give them a day or two of relaxation and some fun. To learn more, or to make a donation, just click on "Donate" and in the comments section add "Chrissie's Fund." Your gift will be truly appreciated.
---
Eric as a young boy

Celebrating at Nursingale's "Together for Good" event

Eric, his mom and grandparents,

Nursingale's founders:
Griff and Pamela Wise,
Chris Thomas and Carol Walker Vial
"Their opportunities are endless. Helping them realize their potential is priceless." 
                                                                    Chris Thomas: Founding Board Chair and Mother
 
---
The story behind our name and logo
A few years ago as our services were expanding to treat not only children, but young adults as well, we recognized that Children's Nursing Specialties no longer really described us. We needed a new name that was easy to remember, more accurately reflected our true mission and still incorporated the word "nursing."
As part of the research we went back to the very beginning when Florence Nightingale identified the basic principals of patient care…food, water, shelter, cleanliness, along with the comfort that comes from being in a safe and peaceful environment. This is as true today as it was then.  And it is the basis for the Intensive Care environment that supports each of our clients...in their own homes with their families. Thus the name "Nursingale."
The logo is a blending of a nightingale and a hummingbird.   The nightingale is best known for the powerful and beautiful song it sings night and day as a harbinger of a personal dawn.  The hummingbird symbolizes great courage, determination and adaptability…a powerful symbol of endurance.  Together they represent everyone who is coming together to give the medically fragile client the best possible life...nurse, doctor, board member, mother, father, brother, sister, grandparents and friends.  All with the shared goal of keeping them at home and safe.  The bird's pose represents courage and the act of embracing the whole family.